I recently gave a tutorial on test design with a strong focus on visual problem solving. Part of the class material is an essay on how visual problem solving can help us understand and solve probems in a collaborative manner. The method literally puts us all on the same page.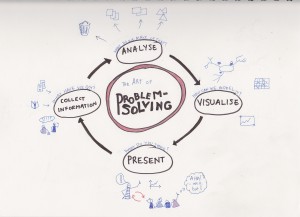 I am not saying that this is the whole truth but a very powerful tool in order to focus on three of our main challenges namely:
UX - user always in focus
Collaboration - aiding us working together
Consensus - helping us agree on what we model together
Using Your Visual Super Powers Ryber
This is the first official version but I aim to further develop the material so I am happy to get comments from my readers.
Enjoy!